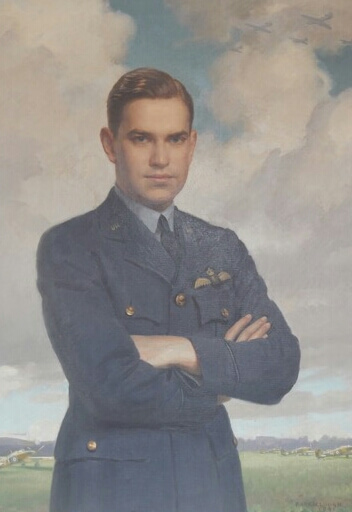 Donate to Marie Curie Cancer Care
"
Of all the stories of tragedy from the Battle of Britain, this terrible episode just chills one to the core. And of all those hundreds I have researched, this stands out as the most memorable for so many reasons. That a young man should see his comrade-in-arms fall to his death in such a horrible manner is bad enough. When it is his brother, well, I just cannot image the pain, the helpless anguish of witnessing it or the shock and lifetime of the post-traumatic stress which the remaining brother,  Antony G A Fisher,  must have endured"
Editor – 'Britain at War' Magazine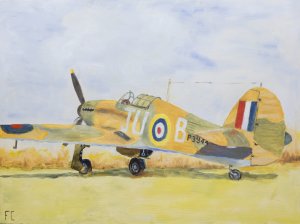 A wonderful treasure – Basil's actual Hurricane painted by Francis Coleman who is Basil Mark Fisher the 2nd's brother in law.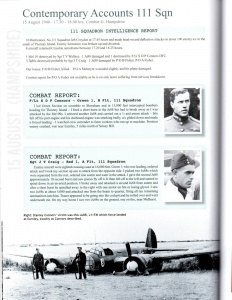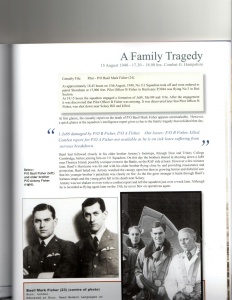 This Basil's Grave story is just too wonderful.
Flying Officer Basil Mark Fisher, a fighter pilot, was killed in action during The Battle of Britain on August 15th 1940 and later buried at Eton.
And, 75 years on, the story has been re-visited recently thanks to the kind efforts of two wonderful girls from Eton College – Kate and Sarah.
Kate Pierce, Head of German, who lives beside the now closed graveyard of St. John's, on Eton Wick Road, Eton,  looked out of her son's bedroom window and noticed a distinctive Commonwealth War Graves Commission (CWGC) headstone. The attached photo taken from Basil's headstone shows that small window over the top of Mark Fisher,  just bending over, and Sarah, Eton College School Librarian. Kate, with the leather handbag,  is standing to the right.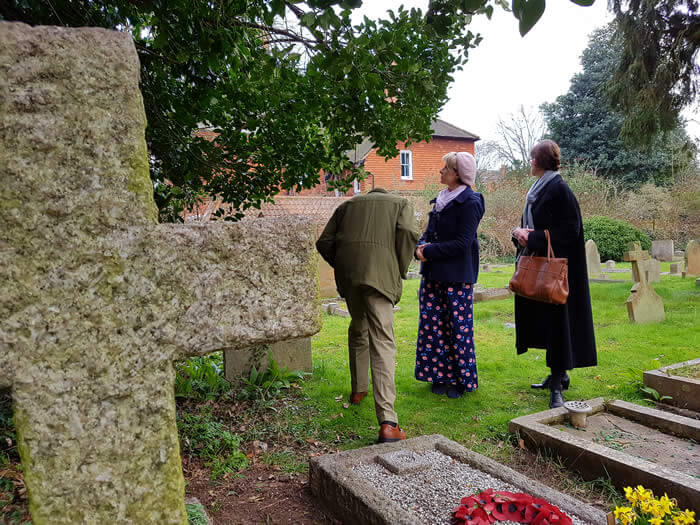 When Kate noticed the CWGC headstone – specific to all casualties of the two world wars – she wondered why that grave was NOT being looked after correctly? As Kate began tidying up the grave, she then noticed that the grave next door was also a fallen hero of the Second World War, bomber crew, and tidied that one too. Then she noticed the third fallen hero Basil Mark Fisher…and tidied that one as well, along with the help of her tutor group. At no point did she realise that one of the graves belonged to an Old Etonian.
On Remembrance Sunday 2014, Kate and her tutor group left a very touching note to all three heroes in the form of a wreath with her signature.  She left her wreath on the middle headstone.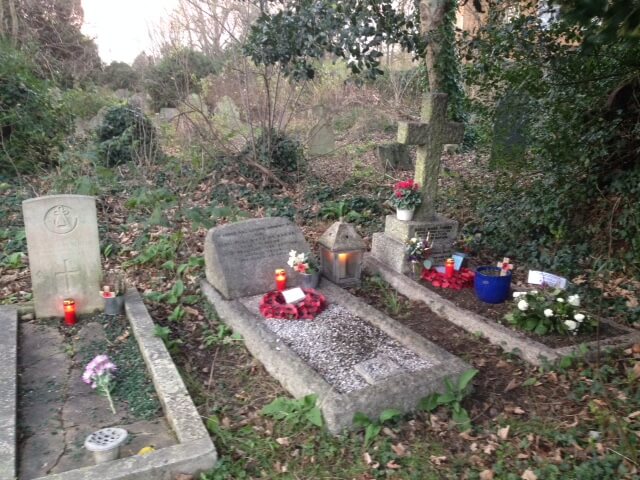 Quite separately Sarah Warren MacMillan, Eton College School Librarian, was researching Etonians who had fought in The Battle of Britain for the 75th anniversary of the conflict. Using the CWGC site to discover more about those who had been killed during the conflict, she was astonished to find one was buried in Eton itself; that man was Flight Officer Basil Mark Fisher. It took several attempts to find the grave, as there are several graveyards in Eton, but on a Sunday afternoon in late September, 2015, the search paid off.
While looking over Basil's grave Sarah noticed a wreath on the grave adjacent to Basil's and realised the dedication was from Kate, her work colleague and friend. Later that evening, Sarah – intrigued – contacted Kate by email to ask why she had left the wreath on the grave next to Basil, which is of a young RAF serviceman killed over Dusseldorf, thinking that she might have a connection with him. Kate replied almost straight away, saying that she had no idea that Basil was an Old Etonian, and that she had been tending the graves with her tutor group as a mark of respect.
By another twist of fate, Sarah had coincidentally met Andy Saunders, an aviation historian and Editor of Britain at War Magazine, at a mutual friend's book launch at the Imperial War Museum only a couple of months prior to her researching the Battle of Britain. Andy had since been helping Sarah with her research into Old Etonians involved in the conflict, and had a very personal interest in Flight Officer Basil Mark Fisher, as it was he who had originally investigated the crash site of Basil's Hurricane near Selsey Bill in the 1970s.
Sarah messaged Andy from the graveyard (how modern!) the moment she finally found the grave in St. John's Cemetery, and when they spoke later that evening, he told her that he knew Basil's nephew from his previous investigations at the crash site. Sarah asked Andy if he felt it appropriate for her to contact the family about her discovery, and he passed on Mark's contact details. Sarah sent an introductory email to Mark, explaining recent events, and so it all began…
The photograph shows Andy (right) and Mark at Basil's grave.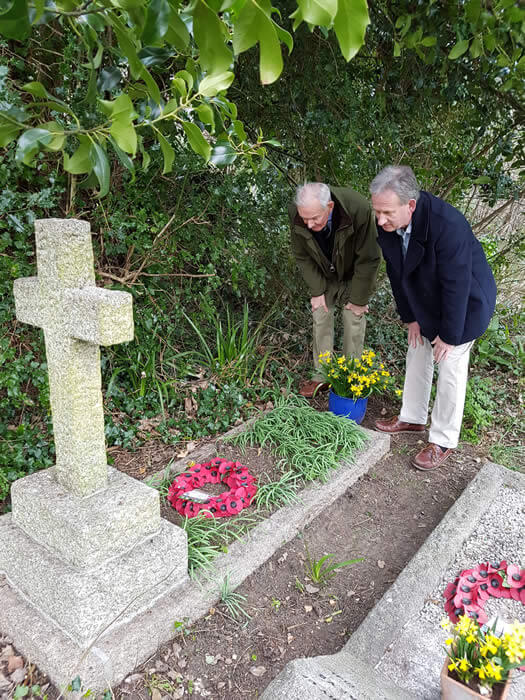 Sarah was put in touch with Mark and here we go…
What an incredible unfolding story?
All because of The Angels of Eton  – Sarah & Kate. Bless them both.
*****
Sarah and Kate gave a talk to her tutorial group early in October 2015, as the boys were keen to hear more of the servicemen buried in the graves they had been tending, and Sarah's subsequent research into the graves revealed the following:
Basil Mark FISHER was killed 15th August 1940, aged 23. Educated at Eton, he read Modern Languages and History at Trinity College, Cambridge. Commissioned in the RAFVR in July 1938 and called to full-time service in October 1939. He joined 111 Squadron at Croydon in May 1940 after completing training. On 15th August, in action with Ju88s and Me110s, he was shot down over Selsey and baled out, but his parachute caught fire and he was killed. His Hurricane P3944 crashed at Greenwoods Farm, Sidlesham.
His older brother Flight Officer Antony George Anson Fisher also served in 111 Squadron. He was commissioned in the RAFVR in August 1939, and called to full-time service at the outbreak of war, marrying only several weeks before on 29th July. He joined 111 Squadron in Wick in March 1940, three months before his brother Basil. After seeing his brother shot down on 15th August, Antony was posted away shortly afterwards to 8FTS. He was awarded the AFC (gazetted 1st September 1944), and released from the RAF as a Squadron Leader in 1945.
Ronald Victor PARDY (grave to the immediate left of Basil)
was killed over Dusseldorf on the 27th December, 1941, aged 19. CWGC lists only that Pardy had been a member of 150 Squadron, but not as to the nature of his death. What intrigues most is how a serviceman killed in Germany came to be buried in Eton. Again, Andy Saunders to the rescue!
Andy's advice to look at the Operations Records (O/R) at Kew for the date concerned revealed online copies of the original typed O/R; these are detailed accounts of what happened to each squadron on any given night. It transpires from these that 150 Squadron were sent on a raid to Dusseldorf, and were met by heavy A/A fire; Pardy's Wellington bomber was the only plane in the squadron to be severely damaged, but it managed to limp home with all hydraulics damaged. A forced belly landing after the landing gear failed, revealed that all crew had survived apart from Pardy who had been killed by flak towards the back of the aircraft.
Further investigations into relatives have so far been to no avail, but it is interesting to note that beneath Pardy's original headstone are inscriptions to both his mother and father, who died in subsequent years, and we can only assume they were interred with him at a later date. Initial enquiries as to whether his parents were employees of Eton have been as yet unsuccessful (records up until the latter years of the 20th century are patchy), but this is ongoing.
Daniel (Donald) George Macintyre ROBERTSON (grave second left from Basil) died 22nd November, 1944, aged 31.
CWGC lists Robertson as a member of 1st Battalion, Oxford and Bucks Light Infantry, and that his first Christian name is Daniel.
What happened to Robertson can only be speculation, but research reveals that the 1st Ox and Bucks landed in Normandy after D-Day in June 1944, and after an unsuccessful operation to take the town of Caen, the 1st Ox and Bucks moved to positions around the Odon bridgehead and suffered heavy German artillery fire. The Allies launched further attempts to capture Caen, and later entered the city successfully on 9th July. Fighting around Caen continued for much of the month, with the battalion sustaining significant casualties. The battalion later fought in the Second Battle of the Odon, and in August took part in the advance towards Falaise, the latter signifying the end of the battle for Normandy. The 1st Battalion, Ox and Bucks then took part in the advance East and eventually entered Belgium in early September.
Whilst there is no way of knowing when Robertson himself was injured, ancestry.co.uk reveals that he was born in 1913 in the Reading District, lived on Eton High Street up until his enlistment, and died in the Bath District in 1944, presumably from wounds sustained in France which necessitated him being sent back to England for medical treatment.
The photograph shows Sarah (left) and Kate standing by Basil's Grave.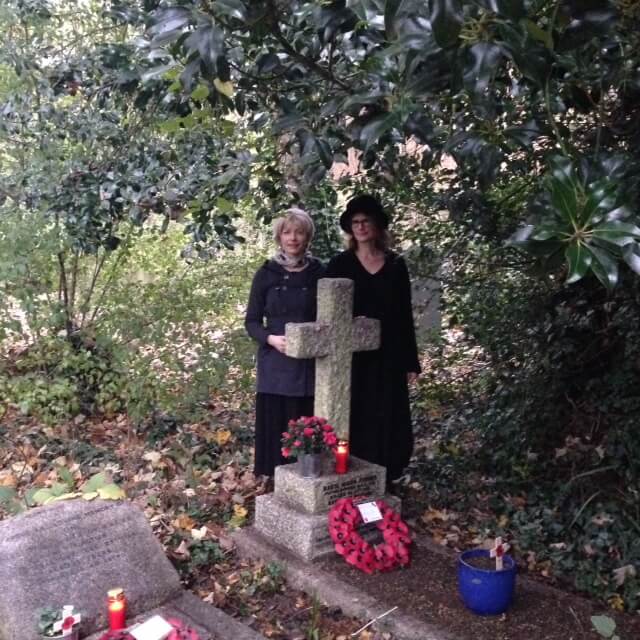 Basil Mark Fisher (the Second!) first talk on the subject, from The Eton Library of Sarah to the students of Kate, was given on Wednesday 23rd March 2016.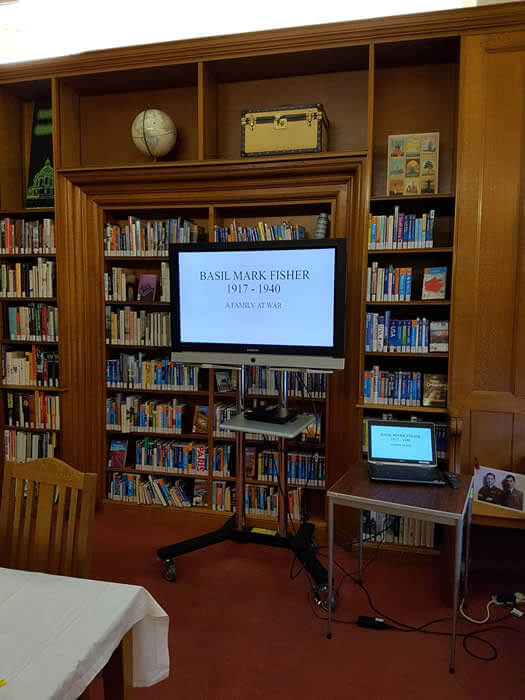 Basil Mark Fisher 1917-1940
A Family at War….
GOOD EVENING BOYS. (PIC ONE, BMF)
I AM SO PLEASED TO HAVE BEEN INVITED TO TELL YOU A LITTLE ABOUT MY UNCLE BASIL WHO LIES BURIED NOT 500 YARDS FROM WHERE WE ARE. HE TOO, WAS PRIVILIGED TO BE EDUCATED AT THIS UNIQUE AND VERY SPECIAL SCHOOL. AS INDEED, WERE MY FATHER, MYSELF AND MY BROTHER MIKE HERE TODAY WITH ME.
BUT FOR THE KIND ACTIONS OF SARAH YOUR DELIGHTFUL LIBRARIAN WHO WAS TAKING AN INTEREST IN ETONIANS WHO LOST THEIR LIVES IN THE IN THE BATTLE OF BRITAIN AND KIND KATE WHOSE HOME OVERLOOKS THE GRAVEYARD. KATE HAD CARINGLY NOTICED SOME OF THE GRAVES GOING UNLOVED – THIS STORY MIGHT NOT HAVE COME ALIVE…AND I SINCERELY THANK THEM BOTH. AND ANDY SAUNDERS, AUTHOR AND RESPECTED AVIATION HISTORIAN, WHO RECOVERED PARTS OF BASILS HURRICANE IN 1975 – PUT SARAH IN TOUCH WITH ME.
TO UNDERSTAND BASILS STORY, I'LL DIGRESS A LITTLE AS THE HISTORY SURROUNDING HIS FORBEARS MAKES IT OBVIOUS THAT HE WOULD BE AMONGST THE FIRST TO VOLUNTEER TO DEFEND HIS COUNTRY.
MY UNCLE – AFTER WHOM I AM NAMED – WAS DESCENDED ON HIS MOTHERS SIDE FROM THE ANSON FAMILY (THE GREAT LORD ANSON CIRCUMNAVIGATED THE WORLD IN HMS CENTURION 1740-1744 BRINGING BACK 'THE PRIZE OF ALL THE OCEANS – £50,000,00 (!) AFTER HE BOLDLY ATTACKED AND BOARDING NUESTRA SENORA DE COVADONGA (THE MANILA GALLEON) IN THE PACIFIC (PIC TWO CENTURION TAKING THE COVADONGA). THE VALUE OF THE GOLD AND SILVER BROUGHT BACK TO THE TOWER OF LONDON WAS SO VAST IT EQUATED TO NEARLY A THIRD OF THE ENTIRE ANNUAL BUDGET OF THE ROYAL NAVY AT THAT TIME (1744=£2,835,000). INDEED, IT TOOK MORE THAN 30 CARRIAGES TO CONVEY IT TO THE TOWER OF LONDON.
BASILS MOTHER JANET WAS AN ANSON. AND ON HIS FATHERS SIDE HIS MANY TIMES GREAT GREAT GRAND FATHER WAS CAPTAIN JOHN FISHER WHO COMMANDED THE MARGARET AND JOHN UNDER DRAKE AT THE BATTLE OF THE SPANISH ARMADA IN 1588 (PIC 3 MARGARET AND JOHN) ASSISTING DRAKE IN THE CAPTURE OF THE NUESTRA SENORE DEL ROSARIO).
IT WAS CAPTAIN JOHN FISHER WHOSE TESTIMONY HELPED DRAKE IN A SUBSEQUENT CLAIM AFTER THE BATTLE. CAPTAIN FISHER LANDED THE FISHER CANNONS STILL TO THIS DAY EMBEDDED IN THE PAVEMENT IN THE VILLAGE OF CLEY IN NORFOLK – BELIEVED TO BE FROM THE ARMADA) (PIC 4 FISHER CANNON AT CLEY).
BASIL'S GREAT GREAT GRANDFATHER ADMIRAL WILLIAM FISHER WAS IN THE TRAFALGAR CAMPAIGN AS LIEUTENANT IN THE SUPERB AS NELSON CHASED FRENCH ADMIRAL VILLE NEUVE ACROSS THE ATLANTIC PRIOR TO TRAFALGAR. LATER COMMANDING HMS ASIA IN A SQUADRON OFF ALEXANDRIA HE HAD THE TASK OF CONTROLLING THE BARBARY PIRATES AND KEEPING THE MAIL ROUTES OPEN ACROSS EGYPT – HE RECEIVED THE TURKISH GOLD MEDAL AND A SWORD WHICH NOW HANGS IN MY HOME.
IN THE FIRST WAR, HIS UNCLE TOM FISHER WAS CHAPLAIN OF THE 7TH DIVISION AT THE BATTLE(S) OF PASSCHENDAELE. TOM WAS SUBSEQUENTLY AWARDED THE MILITARY CROSS AT THE BATTLE OF PAPADOPOLI IN ITALY FOR RESCUING SOLDIERS UNDER FIRE AS A COMBINED BRITISH AND ITALIAN ARMY DROVE THE AUSTRIANS OUT OF ITALY (OCTOBER 1918).
BASILS LOVING FATHER GEORGE – MY GRANDFATHER – WAS ALSO KILLED FIGHTING FOR HIS COUNTRY (PIC 5 GEORGE IN UNIFORM) IN PALESTINE IN 1917. CAPTAIN GEORGE FISHER OF THE 4TH NORFOLKS LIES BURIED ON A LONELY HILLSIDE IN GAZA. HE WAS A GIFTED AMATEUR ARTIST AND HAD GONE FORWARD TO SKETCH THE TURKISH LINES FOR THE GUNNERS WAY BEHIND. HE RETURNED THE NEXT DAY TO FINISH HIS SKETCH AND WAS MORTALLY WOUNDED BY A TURKISH SNIPER WAITING FOR HIM.
I HAVE HERE THE BOUND LETTERS LETTERS WRITTEN BY GEORGE TO JANET FROM HIS TRENCH. EVERY LETTER BEGINS 'MY VERY OWN DARLING' AND REFERS WITH SO MUCH LOVE TO PRECIOUS 'TORVALD' (HIS NICKNAME FOR ANTONY) AND BASIL. THEY ARE MOST MOVING AND SO VERY PERSONAL. OF COURSE THEY END WITH HIS COLONELS LETTER DESCRIBING HIS DEATH ON SEPTEMBER 2ND 1917 AND HIS BLEAK GRAVE ON SAMPSONS RIDGE. YOU COULD THUS SAY BASIL WAS DESCENDED FROM A FAMILY AT WAR.
AND I AND MY GENERATION HAVE BEEN ETERNALLY GRATEFUL THAT WE, TOO HAVE NOT HAD TO ENDURE ANOTHER 'GREAT WAR'.
BASIL NEVER KNEW HIS FATHER (PIC 6 ANTONY AND BASIL WITH MOTHER). THE BOYS WERE BROUGHT UP BY THEIR MOTHER JANET (PIC7). THEY HAD LIVED AT ASHDOWN PARK THE FAMILY HOME IN SUSSEX. AFTER GEORGE'S DEATH THEY MOVED INTO THE ROEBUCK PUB ON THE EDGE OF THE ESTATE. IT HAD BEEN VACANT SINCE MY GREAT GREAT GRANDFATHER HAD CLOSED IT TO STOP HIS WIFE SENDING THE BUTLER DOWN FOR A TIPPLE. AFTER GEORGE'S DEATH, ASHDOWN PARK WAS LENT TO THE BELGIAN GOVERNMENT AND USED TO REHABILITATE WOUNDED BELGIAN OFFICERS.
THE BOYS WENT TO ST MICHAELS SCHOOL IN UCKFIELD AND THEN ON TO ETON WHERE THEY WERE IN MR ROWSON'S HOUSE. BASIL EXCELLED AT SPORTS AT ETON (PIC 8 IN ROWSONS CRICKET TEAM) AND WAS SUBSEQUENTLY CAPTAIN OF THE FIRST 11 (PIC 9) HE CAPTAINED THE ETON TEAM IN THE 1935 ETON AND HARROW MATCH. AND THIS PICTURE SHOWS HIM IN THE MONARCH CREW AT 4TH JUN 1935 – (PIC 10 AND THIS IS THE VERY BOATER HE WORE ON THAT DAY).
ANTONY AND BASIL GRADUATED FROM TRINITY COLLEGE CAMBRIDGE WHERE THEY BOTH LEARNT TO FLY WITH THE CAMBRIDGE AIR SQUADRON. IN 1937 AND 1938 THEY FLEW IN MY FATHERS VEGA GULL GYPSY 6 (PIC 11) ACROSS EUROPE TO AND FROM LAKE COMO. IN ORDER TO DO THIS, THEY HIRED THE AIRCRAFT OUT FOR THREE WEEKENDS SO THEY COULD EXPLORE THE CONTINENT ON THE FOURTH!
ON ONE OCCASION BASIL NOTED SOMETHING IN THE CLOUDS ABOVE THEM… AND THEY WERE HORRIFIED TO DISCOVER IT WAS THE EIFFEL TOWER. MY FATHER HAD 200 FLYING HOURS ON HIS FLYING LICENCE BEFORE THE WAR (SOME PILOTS RECEIVED AS LITTLE AS 7 INITIAL INSTRUCTION HOURS DURING THE WAR!)
SADLY, THEIR MOTHER DIED AFTER A LONG ILLNESS JUST BEFORE THE WAR. ANTONY AND BASIL WERE BOTH COMMISSIONED INTO THE ROYAL AIR FORCE VOLUNTEER RESERVE (RAFVR) AND CALLED TO FULL TIME SERVICE. ANTONY JOINING 111 HURRICANE SQUADRON AT WICK IN 1939 AND BASIL JOINING THE SAME SQUADRON AT CROYDON IN MAY 1940 (PIC 12).
PIC 13 is BASIL WITH HIS COMMANDING OFFICER.
AUGUST 15TH 1940 WAS TO CHANGE ANTONY'S LIFE.
THE ENEMY FLEW 2000 SORTIES THAT DAY USING 800 BOMBERS AND 1000 FIGHTERS. A GERMAN SQUADRON OF FIFTEEN ME 110's AND EIGHT ME 109's ATTACKED RAF CROYDON THREE TIMES. 111 SQUADRON WAS WAITING. IN THE ENSUING MELEE, THE GERMAN COMMANDER RUBENSDORFER AND SIX OTHER MESSERCHMITT'S WERE SHOT DOWN. AS 111 SQUADRON PURSUED THE REMAINING GERMAN AIRCRAFT BACK TO THE COAST, MY FATHER SAW BASIL'S HURRICANE LEAVE A DOGFIGHT OVER SELSEY BILL TRAILING SMOKE. BASIL WAS SEEN TO BAIL OUT – BUT HIS PARACHUTE WAS ON FIRE – AND HE WAS KILLED.
BASILS HURRICANE P3944 WAS ONE OF 34 AIRCRAFT LOST BY THE RAF ON THAT FATEFUL DAY (PIC 14 PILOT LESS HURRICANE CRASHING AND PIC 15 THE BARN UNDER WHICH THE AIRCRAFT RESTS TO THIS DAY). THE GERMANS LOST 75.
PRIME MINISTER CHURCHILL HAD VISITED FIGHTER COMMAND TO WATCH THE ACTION UNFOLD. THE NEXT DAY HE USED HIS IMMORTAL WORDS 'NEVER IN THE FIELD OF HUMAN CONFLICT, WAS SO MUCH OWED BY SO MANY TO SO FEW'. HE REPEATED THESE WORDS IN THE HOUSE OF COMMONS ON THE 20TH AUGUST.
SOMETIME IN AUGUST 1940 – MY FATHER STOOD IN THE GRAVE YARD BURYING HIS BROTHER. TWO ORPHANS PARTING FOR THE LAST TIME. THEY WERE NOT FROM THESE PARTS – BUT THE SECOND WORLD WAR WAS AT ITS HEIGHT.
BASIL HAD BEEN SO VERY HAPPY AT ETON. AND TIME WAS SHORT… ETON SEEMED AN IDEAL RESTING PLACE. ONE CANNOT IMAGINE THE GRIEF AND DESPAIR OF HIS BROTHER. YEARS LATER, MY FATHER TOLD ME THAT HE DID NOT POSSES THE NECESSARY AGRESSION TO BE A FIGHTER PILOT. BUT HE DID POSESS INCREDIBLE INTELLECT, TENACITY AND TRAIN OF THOUGHT. THIS ALLOWED HIM TO GO ON TO DEVELOP THE FISHER TRAINER AFTER THE BATTLE OF BRITAIN (PIC 16 CARTOON BY GIEREK A POLISH PILOT) THE PROTOTYPE WAS BUILT OUT OF MECCANO.
THE FISHER TRAINER TAUGHT PILOTS HOW TO GIVE ENOUGH 'LEAD' TO THEIR AIM. FOR THIS HE WAS AWARDED THE AIR FORCE CROSS (AFC). ANTONY WAS ALSO INVOLVED IN HAVING CAMERAS FITTED INTO THE WINGS OF THE HURRICANES THUS SENIOR OFFICERS COULD SEE THE ACTUAL RESULTS OF THE PILOTS SHOOTING.
AFTER THE WAR, ANTONY WENT ON TO BUILD A HUGE AGRI BUSINESS EMPIRE PRODUCING 785000 CHICKEN A WEEK TO FEED A HUNGRY POST WAR NATION. AS MY SISTER, THE ECONOMIST LINDA WHETSTONE, PUT IT SO WELL, 'AFTER THE WAR HE REALISED THAT BOTH HIS FATHER AND HIS BROTHER HAD GIVEN THEIR LIVES FOR THE FREEDOM OF THEIR FELLOW COUNTRY MEN. AND YET HE SAW FREEDOM DIMINISHING.'
TO COUNTERACT THIS SOCIALIST ASSAULT ON FREEDOM HE FOUNDED THE WORLD'S FIRST FREE MARKET THINK TANK, THE INSTITUTE OF ECONOMIC AFFAIRS (IEA) IN LONDON IN 1955, WHICH STRONGLY INFLUENCED MARGARET THATCHER SOME 25 YEARS LATER. HE THEN FOUNDED THE ATLAS INSTITUTE IN THE USA TO HELP PEOPLE REPLICATE THE IEA. BY 2015 THEY HAD PROMOTED 486 FREE MARKET THINK TANKS WORLDWIDE.
ANTONY FISHER WAS KNIGHTED BY LADY THATCHER FOR HIS WORK DEFENDING FREEDOM FOUR WEEKS BEFORE HE DIED IN 1988.
I WOULD LIKE TO END WHERE I BEGAN – AGAIN TO THANK SARAH AND KATE – NOT THIS TIME FOR ASKING ME TO HERE TONIGHT. BUT FOR PROVIDING THE SOLUTION BEYOND ANY DREAMS, TO A DILEMMA THAT MY FATHER TOOK TO HIS GRAVE.
HAVING BURIED HIS YOUNGER BROTHER (PIC ONE) AT ETON DAD WORRIED ALL OF HIS LIFE HOW THE GRAVE MIGHT BE CARED FOR AFTER HIS OWN DEATH. THESE KIND LADIES (KNOWN TO MY BROTHER AND I AS THE ANGELS OF ETON!) COMPLETELY UNKNOWN TO ANY OF US IN THE FAMILY – HAVE DONE THE VERY THING THAT MY FATHER MOST WANTED… THEY SHOWERED THE GRAVE OF A FALLEN HERO WITH THEIR KINDNESS. THANK YOU FROM THE BOTTOM OF MY HEART.
With acknowledgements to Gerald Frost, 'Antony Fisher' Champion of Liberty
B.M.Fisher, Basil's Nephew. MARCH 2016
FISHER FAMILY GENEALOGY FROM 1250>2016
BASILS MONARCH BOATER
HURRICANE .303 AMMO
LOG BOOKS
'LETTERS'
DE STEMMATE PISCATORIS"
____________________________________________________________________________________
The three photographs below show the 'old rugged cross' presented to Kate and Sarah, The Angels of Eton, with love and gratitude by The Fisher Family.
This wooden cross, which loosely reflects the stone cross on Basil's grave at Eton, was built with kindness, caring and no charge, by The Chirpy Chippie of Knowle (in a bowler hat), Solihull and cunningly holds a deactivated .303 shell from Basil's actual crashed Hurricane P3944 recovered in 1975 by Andy Saunders .
An eerie touchstone between The Fallen Hero and those lucky enough to benefit from The Freedom for which he perished.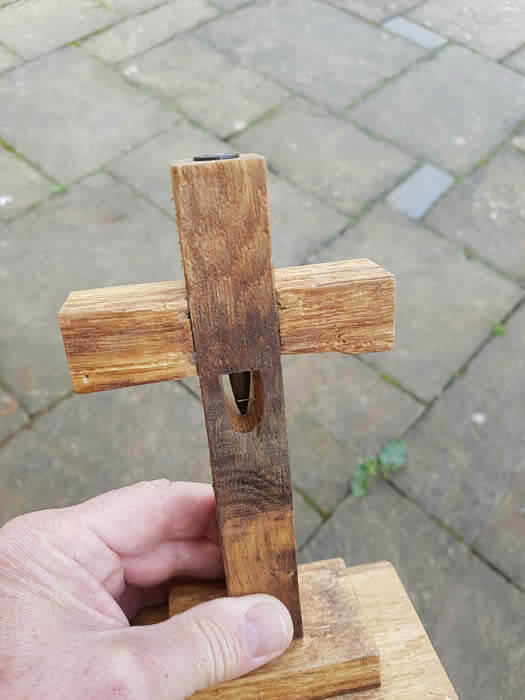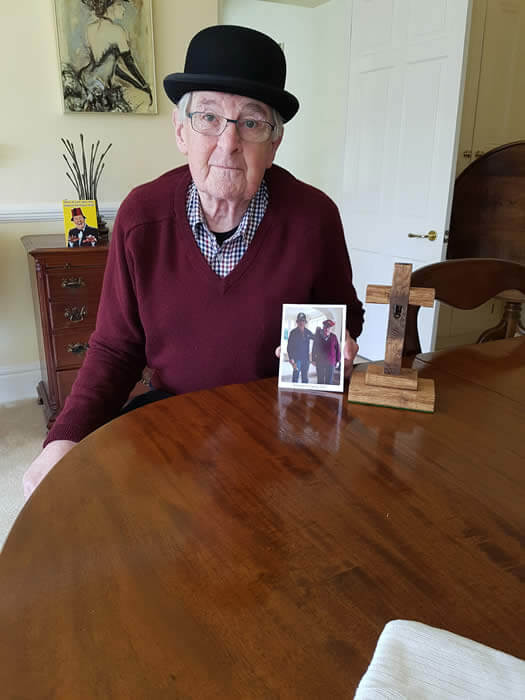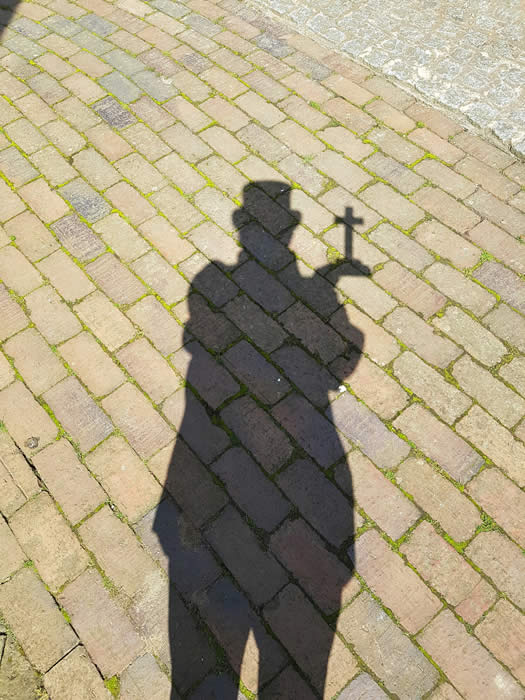 Antony G A Fisher, following the death of his brother Basil in action during The Battle of Britain, was transferred from active service to a training squadron.
Using skills from his degree in Engineering from Cambridge and his fighter pilot experience, Sq Ldr Fisher invented The Fisher Front Gun Trainer. The following are the photographs and pages from that manual.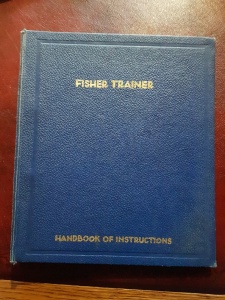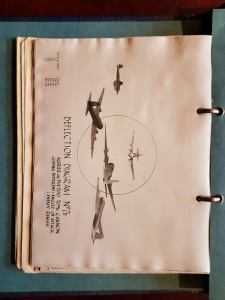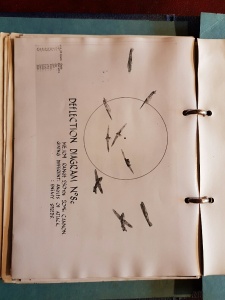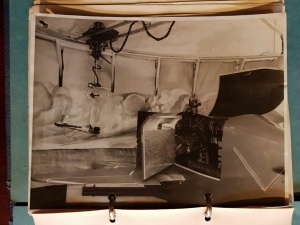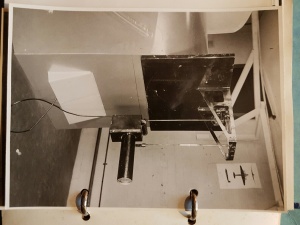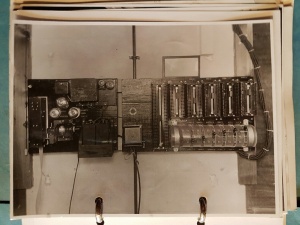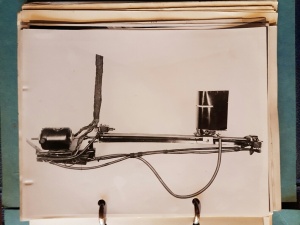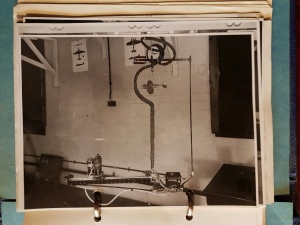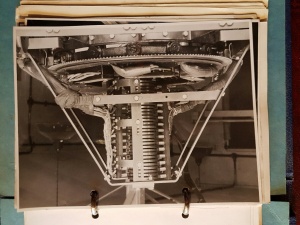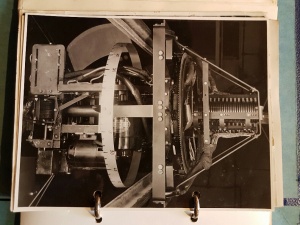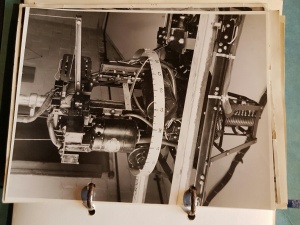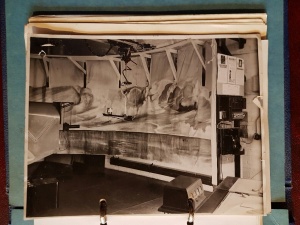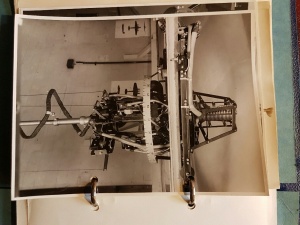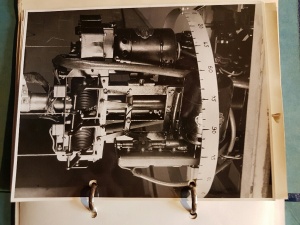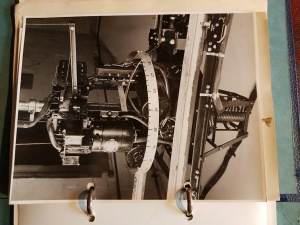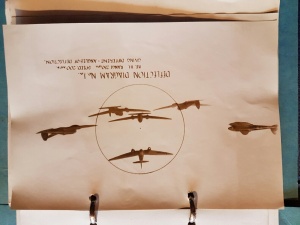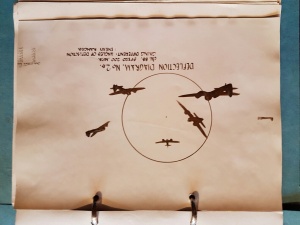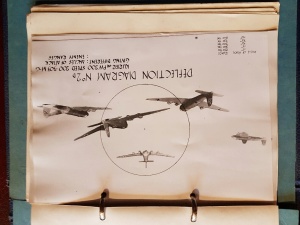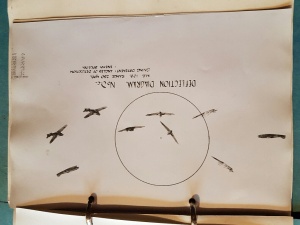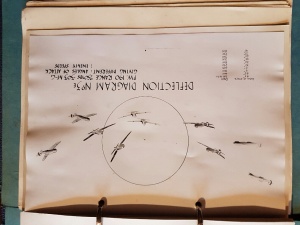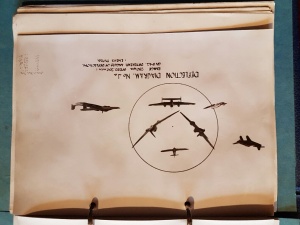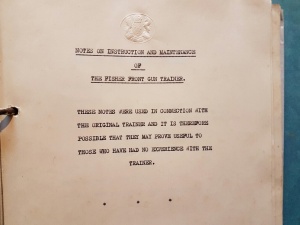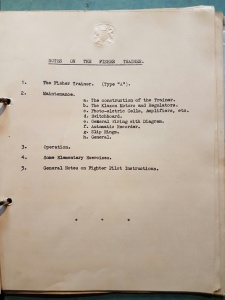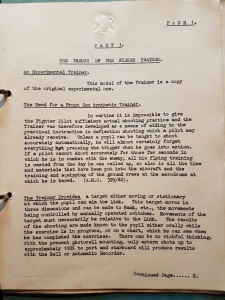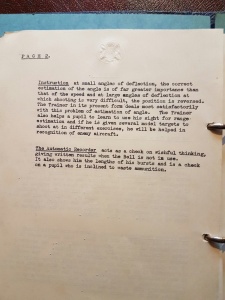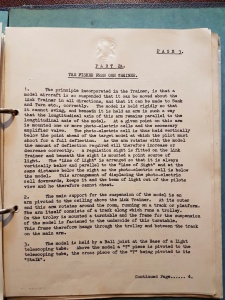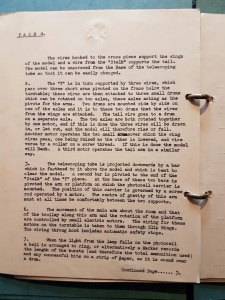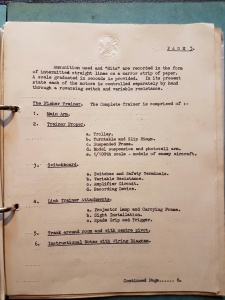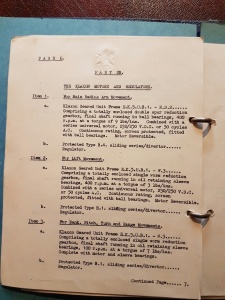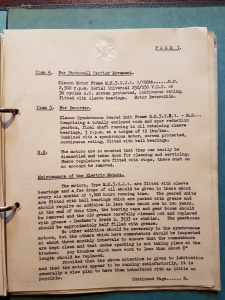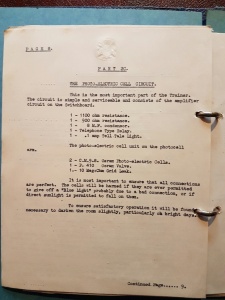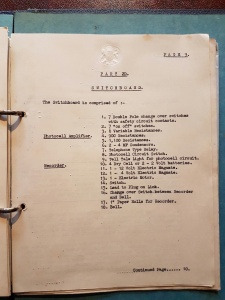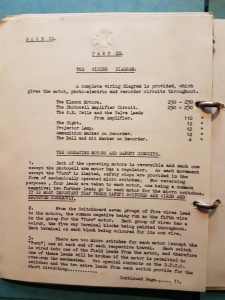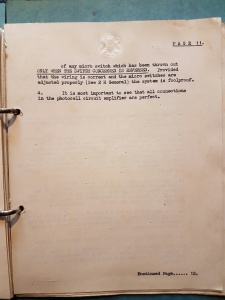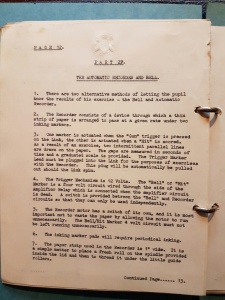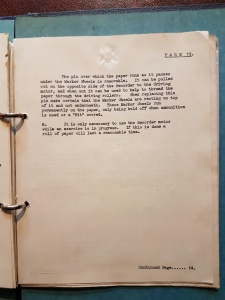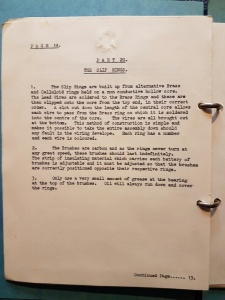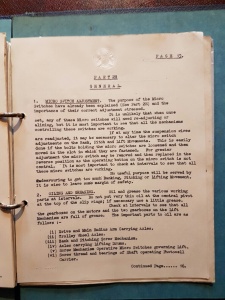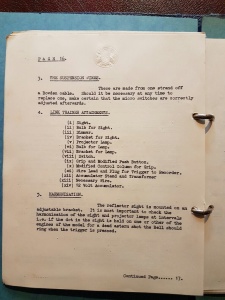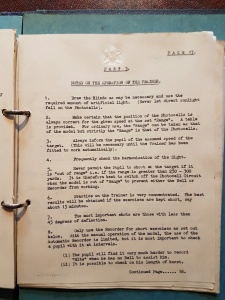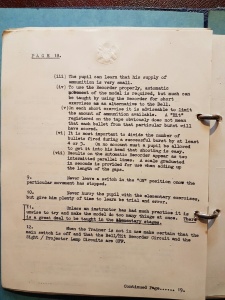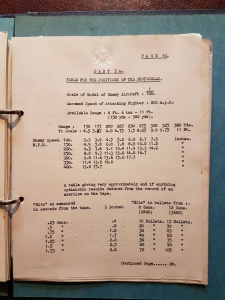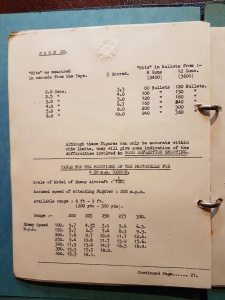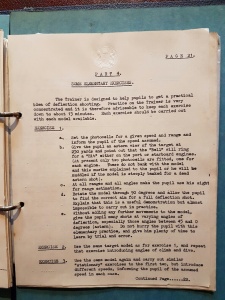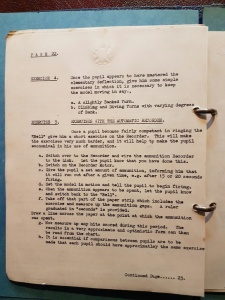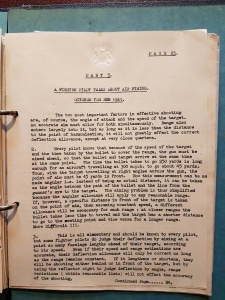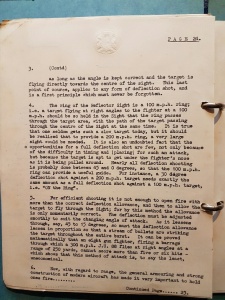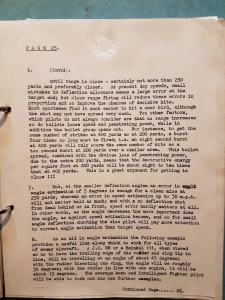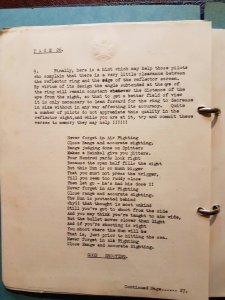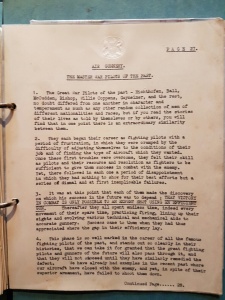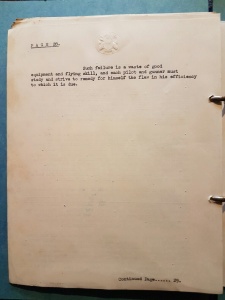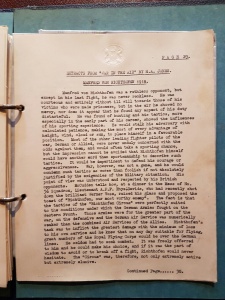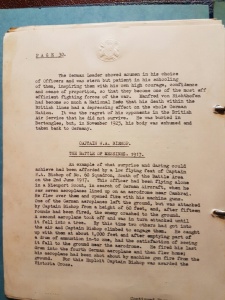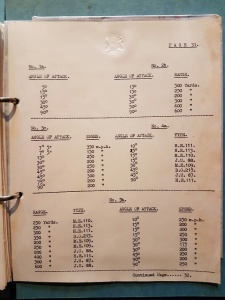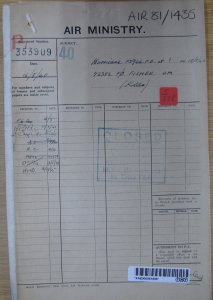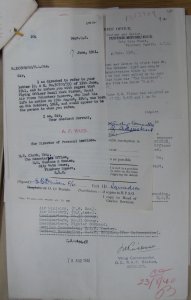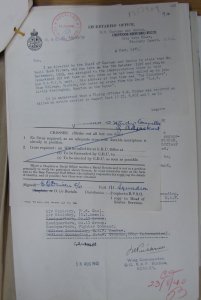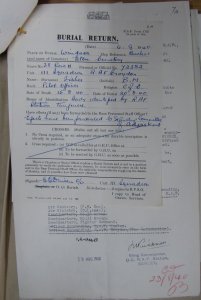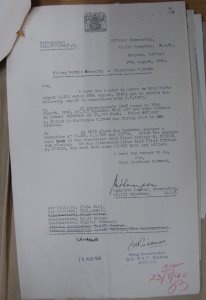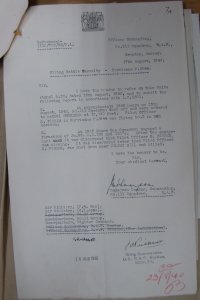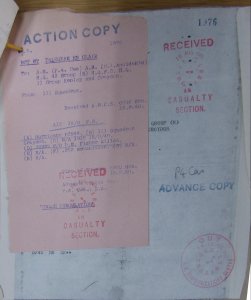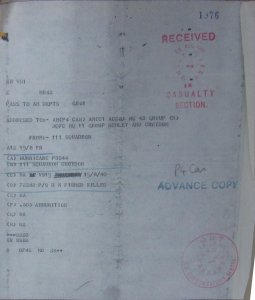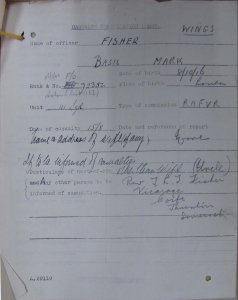 The following article about Basil's story now appears in Britain at War: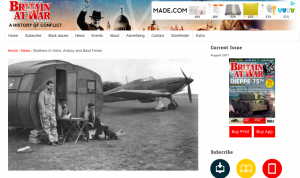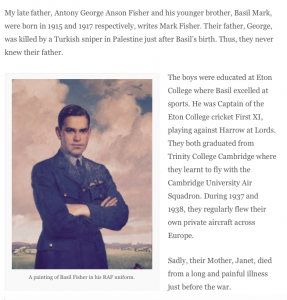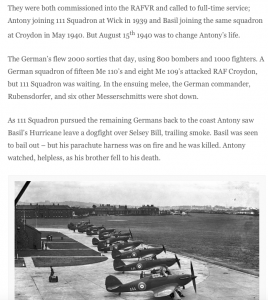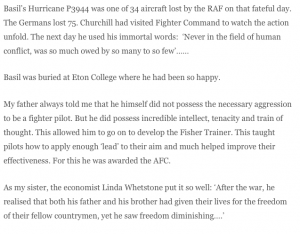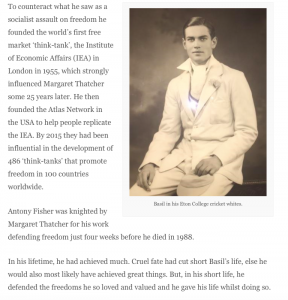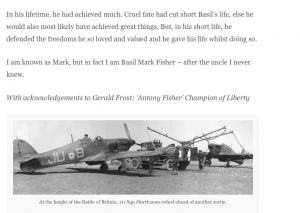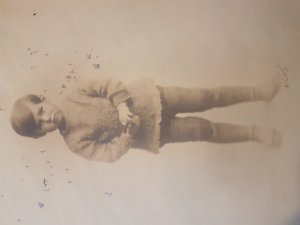 Antony George Anson Fisher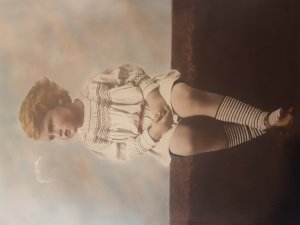 Basil Mark Fisher
In the 1939-45 war (as far as the official Eton Roll could ascertain), nearly five thousand OEs served. 378 of these were in the Royal Navy, 20 in the Royal Marines, 4,048 in the Army and 512 in the RAF. 748 died; 28 had served in the Navy, four in the Royal Marines. 572 in the Army and 143 in the RAF.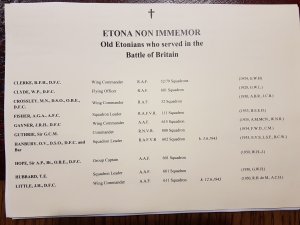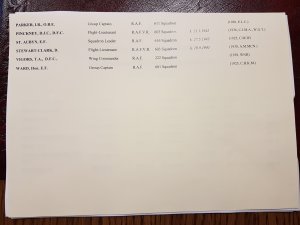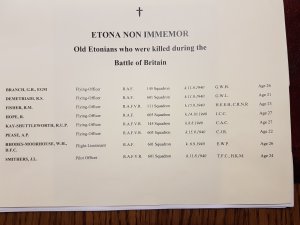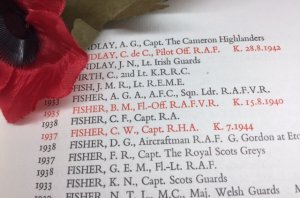 From: The Clerk's Register, Eton College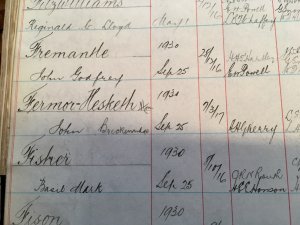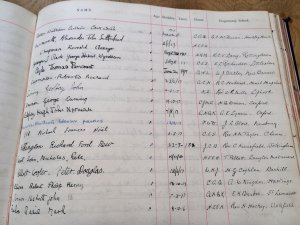 Head Master's Entrance Book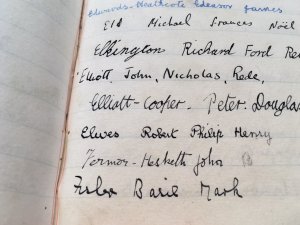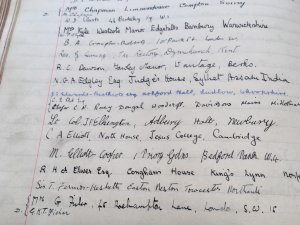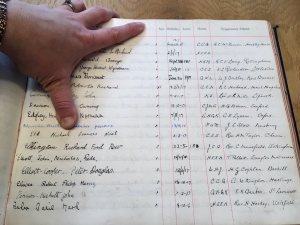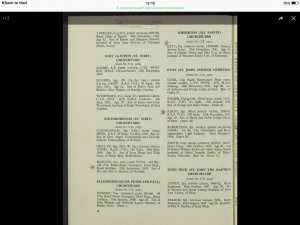 Grave Registration Report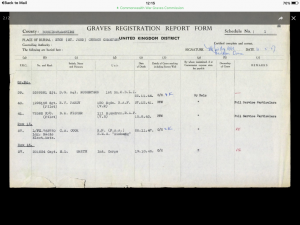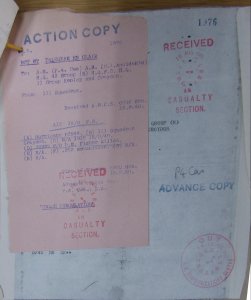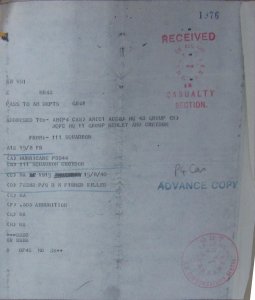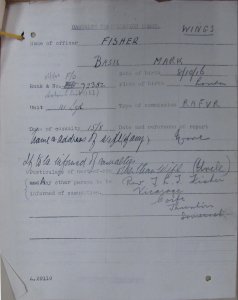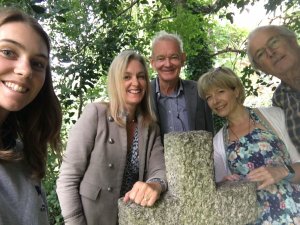 Phoebe, Lucinda, Mark, Sarah & Mike at Basil's Grave on 15th August 2017 for the 77th Anniversary of Basil's death. 
********
The Airmen's Stories – F/O A G A Fisher & F/O B M Fisher
In St. John's churchyard, Eton, there stands an unassuming Cornish grey granite headstone in the form of a cross. It bears the simple inscription: 'Basil Mark Fisher, Flying Officer R.A.F.V.R, Killed in Action Battle of Britain, 15th August 1940, Aged 23'.
Alongside are two further war graves: a young Sergeant Pilot killed in a raid over Düsseldorf, the other a casualty of the Battle for Normandy. The grave hides a poignant Eton story, and one of the Battle of Britain's most enduring tragedies.
Antony George Anson Fisher and his younger brother Basil were born on 28th June 1915 and 8th October 1916 respectively.
Their father George Kenneth Thompson Fisher (1879 – 1917) was serving as an officer with the 4th Battalion, Norfolk Regiment at the start of WW1 and sailed on 29th July 1915 with the battalion from Liverpool to Gallipoli. He took part in the landing at Suvla Bay (8th/15th August 1915). Awarded a Military Cross (gazetted 15th March 1916) and a Mention in Dispatches (gazetted 9th September 1916), he was invalided back to the UK with dysentery.
Recovered, he rejoined his Regiment in Egypt on 18th March 1917.
On a night patrol on 2nd/3rd September 1917 he was fatally wounded by a Turkish sniper. He is buried in Gaza War Cemetery.
His two sons were brought up by their widowed mother Janet (nee Anson)(below) and the brothers remained extremely close throughout their childhood.
Antony joined Eton College in 1928, to be followed by Basil in 1930, both boarding in Jourdelay's House. Of modest academic ability and reserved to the point of shyness (apart from when it came to dancing), Antony took great pride in his younger brother's considerable achievements at Eton. Basil was extrovert and popular amongst his peers, and quickly established himself as an excellent sportsman.
By the time he left the school, Basil had captained the Oppidans in the 1934 Wall Game, and helped Eton to a resounding success against Harrow at Lord's in 1935 as wicket keeper (both below).
He was also President of Pop, a prestigious prefects' society (below).
Basil's great friend at Eton was Nicholas Elliott, son of the Head Master, and they were almost inseparable. On one memorable occasion, Basil accompanied the Elliott family on a holiday to Kenya, travelling by Sunderland flying boat from Southampton to Africa, via Lake Como and the Nile.
Above: Basil and Elliott, thought to be setting off on their Kenya trip.
Basil, accompanied by Nicholas Elliott, followed Antony to Trinity College, Cambridge; he took Modern History and Languages, and Antony read Engineering. The brothers lived a carefree and privileged life of the pre-war generation – speeding through the Cambridge countryside in their sports cars, with gregarious Basil dragging Antony to parties and social events. Later the brothers moved into a flat in Mayfair, and lived in some style.
However, the brothers took their academic studies seriously, Antony considering a career in business, Basil as a diplomat. Both brothers joined the University Air Squadron and were commissioned into the RAFVR in 1938. Avid fliers, they purchased their own Vega Gull aeroplane – partly to impress girlfriends – which they flew around Europe. The plane was, however, rented out three weeks out of four to pay for its upkeep (below).
At the outbreak of war, the brothers therefore had some 200 hours on their flying licenses, whereas some young pilots had as few as nine before they flew into combat. When their mother Janet died just before war, Antony and Basil grew ever closer.
Once war was declared, the brothers were called to full-time service, and posted to 111 Squadron after completing mandatory training; Antony in March 1940 as a Pilot Officer at Wick, Basil in May as a Flying Officer, the squadron was then at Croydon. 111 Squadron were regularly on patrol during the Dunkirk evacuations, and thereafter provided fighter cover for merchant shipping in the English Channel.
Above: Basil Fisher, second from right, in front of a Harvard training aircraft.
Basil was victim of a 'friendly fire' incident on 10th July 1940, mistaken by a Spitfire as hostile, and his Hurricane was fired upon, ripping holes in the tail plane and sending bullets through the petrol tank and wings. However, he managed to nurse his aeroplane home, physically unscathed.
Above: Basil and Antony (colourised by Richard James Molloy).
15th August 1940 dawned cloudy; it would be just another day in the South of England, where the population had become familiar with the sight and sound of furious dogfights between the RAF and Luftwaffe since the Battle had begun in July. However, it was a day that was to see the fiercest fighting of the Battle so far, which Anthony Eden, the Secretary of State for War, would later describe as "one of the critical days of the war".
The Luftwaffe flew 2,000 sorties that day, attacking across the Channel, targeting industrial sites, ports and airfields, across a front of 500 miles; so many plots appeared on radar, that operators could not distinguish between incoming formations. A Daily Express reporter watching the vast horde wrote that numbers were so great "as to make an aluminium ceiling to the sky".
The day became a disaster for the Germans – referred to as 'Black Thursday' – with the loss of sixty-two aircraft. 15th August 1940 witnessed the first daylight raid on north-eastern England, the first fall of bombs on a London suburb, with every squadron in south-east England in operational combat at some point during the day.
Both Fishers were in action in the early afternoon over Kent.
Then at around 17.45 hours, the call came again "Treble-one Squadron Scramble!".
High over Selsey Bill, the squadron made determined head-on attacks against a formation of enemy aircraft comprising Ju88 bombers and their fighter escort, Me110s. The Hurricanes of 111 Squadron tore into the bombers, and – in an action possibly unique in the history of the RAF – the two Fisher brothers jointly attacked and destroyed one of the Ju88s near Thorney Island.
Only seconds later, triumph was superseded by tragedy, as Basil's Hurricane P3944 was hit by return fire from one of the bombers. Flying alongside his brother's stricken plane, Antony offered what protection and encouragement he could in the melée of the ongoing battle. However, any relief Antony felt on watching Basil bale out was replaced by the horror of seeing his brother's parachute on fire. As the fire intensified and burnt through the harness straps, Antony helplessly witnessed Basil freefall to his death. Basil hit the ground near Selsey gasholder at 5.51 p.m., and his Hurricane was seen to dive, swoop, turn and bank erratically several times before crashing into a barn at Greenwoods Farm.
Somehow, Antony composed himself sufficiently to return to Croydon, but was only on the ground for minutes – possibly insufficient time for the Squadron Commander to be given the news of Basil's death – when the squadron was again scrambled to intercept a further raid at around 19.05 hours. Another intense air battle ensued, but when 111 Squadron returned to their base at Croydon, they found it ablaze. Having lost his brother only an hour or so previously, Antony found both the Officers' Mess, and the quarters he had shared with Basil, a pile of smouldering rubble. Both his and Basil's personal possessions, including their flying logbooks, had been destroyed.
Several of the brothers' groundcrew were also killed in the attack on Croydon, and the adjutant later recorded that Pilot Officer Antony Fisher was unable to file a combat report for the day, being placed on leave suffering a nervous breakdown.
Following the death of his sibling, Antony had a mere few days – whilst suffering from extreme trauma himself – to make decisions about Basil's funeral. The only place that Antony could think to have his brother buried was at the heart of the school that Basil had loved so well, and where he had shown such promise only a few years previously. Flying Officer Basil Mark Fisher was laid to rest on 20th August 1940 in Eton St. John's, with military honours. The event – being a private family ceremony, and taking place during the summer holiday – passed unmarked in official College records.
However, on that day – the same day that Churchill gave his 'Few' speech to the House of Commons – there appeared an obituary in The Times:
"It is difficult to write with restraint about the death of Basil Fisher. Perhaps his most salient characteristics were an extreme modesty and an almost childlike integrity which survived the buffeting of youth and early manhood. His attitude was never influenced by the affection he inspired…Yet he inspired a respect which was all the greater because he never laid claim to it. Once he had made up his mind he was hard to move and the doggedness with which he stuck to his examination work, which was often uncongenial, is witness to his tenacity and sense of duty. But beyond this there was about him a simplicity and an unworldly charm that will remain an imperishable memory with all who knew him. As ever, war takes the best".
The obituary bears the signature 'C.A.E', which the author assumes to be Claude Aurelius Elliott, then Head Master; it is highly likely that Claude Elliott would have attended Basil's funeral.
Antony Fisher did not fly operationally again but served as a flying instructor before returning to Fighter Command, renamed Air Defence Great Britain in 1943.
Central Gunnery School, date unknown.
Unknown, P/O WE Gaunt, P/O PP Hanks, Unknown, F/Lt. HP Lardner-Burke, Unknown, Unknown
F/O AGA Fisher, S/Ldr. E Mayne, W/Cdr. AG Malan, F/Lt. VC Simmonds, Unknown
Above image courtesy of Mark Fisher.
Concerned by the poor gunnery skills of RAF pilots, he examined film footage from aircraft combat cameras and realised that many pilots either ignored the basic principles of gunnery or simply did not know them. He knew that success with a gun depended on 'laying off 'when firing, in order to allow for the movement of the target. The result of his deliberations was the 'Fisher Trainer', a ground-based system which enabled recruits to fire at a simulated target that moved as it might in battle and to record their success. This was later superceded by the camera gun, which enabled pilots to aim at real targets and subsequently to analyse the film footage with an instructor.
For this work he was awarded the AFC (gazetted 1st September 1944) and was released from the RAF as a Squadron Leader in 1945.
Fisher worked in the City before taking up dairy farming in Sussex, this ended when his herd was destroyed by foot-and-mouth disease in 1951. He next studied mass poultry farming techniques in the USA and brought them back to the UK, resulting in the very successful Buxted Chicken Company.
In 1955 he founded the Institute of Economic Affairs, which greatly influenced Britain's economic policy under Mrs. Thatcher. He was also active in the Atlas Economic Research Foundation, the Centre for Independent Studies, the Fraser Institute and the Institute of Economic Affairs.
Antony Fisher never recovered from the death of his brother; it exacerbated the bouts of depression from which he suffered, and – whilst he named his firstborn (born a year to the day after Basil's funeral) 'Basil Mark Fisher' – thereafter Antony preferred to call his son 'Mark', and rarely spoke Basil's name, or of what had occurred on 15th August 1940.
Antony sent both his sons to Eton, and (Basil) Mark Fisher remembers an occasion during a tutorial with DH Macindoe, his classical tutor, a former schoolfriend of Basil, and a member of the opposing College Wall Game team during the 1934 match on St. Andrew's Day.
Mark had not been paying attention during the lesson, and by his own admission was not giving it his all. Macindoe called him up to his desk and said: "Fisher, your Uncle did not give up his life for you to muck about – step closer." And with that, he picked up a huge leather-bound thesaurus and dropped it on Mark's head. In due course, Mark Fisher learned to be hugely grateful, and cites this incident as a turning point in his life.
Antony Fisher was knighted in June 1988 and died in San Francisco on 8th July of that year from heart disease.
Until his own death, Antony continued to pay for a local gardener to maintain Basil's grave in Eton, and expressed some anxiety as to what would happen to the grave thereafter. His son, Mark Fisher, continued to pay the gardener for some years, until the bills ceased to come.
In 2014, Kate Pierce, Head of German at Eton College saw three war graves from her window and encouraged her tutor group to help clear them, with no idea that one was the grave of an OE. Six months later, Sarah Warren (School Librarian), during a piece of research found Basil's grave and Kate's wreath upon it; thereafter, they have looked after Basil's grave together.
Members of the Fisher family visit the grave on 15th August each year in a continuing act of remembrance. Basil's headstone makes no mention of the fact that he had attended Eton, and yet he is believed to be the only OE war casualty buried within the bounds of the College. Nicholas Pierce won the F Block Birchall Prize for Community Service during lockdown for his work maintaining the grave, representing a new generation of Etonians who have come to appreciate the sacrifice of their forebears.
Basil Mark Fisher is commemorated on the Eton War Memorial in the Colonnade, and on the Eton Town War Memorial.
(With grateful thanks to the Fisher Family, and from the original text by Sarah Warren, Eton College School Librarian).
The Battle of Britain Monument in London is a superb monument to The Few – commemorating those people who took part in this vital battle of the Second World War.
The Monument is outdoor, free and open 24 hours per day. This website provides information about the Battle of Britain, the airmen, who took part, the history and description of the Monument.
The web page of Basil Fisher can be seen here. For Antony Fisher, visit here.
Above: Basil's Leaver book (found in barn and restored to the family in 2017).
Above: Antony's sons Mark and Michael.